Vice-Rector Christof Gattringer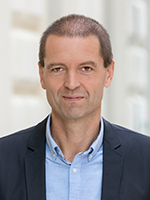 Professor Dr. Christof Gattringer,
Vice-Rector for Research and Career Development

The Professor of Theoretical Physics served as the Dean of the Faculty of Natural Sciences at the University of Graz from 2015 to 2019. The researcher, who was born in Vienna in 1966, also served for ten years as the spokesman for the doctoral college "Hadrons in Vacuum, Nuclei and Stars", financed by the Austrian Science Fund (FWF). Mr. Gattringer has published more than 170 publications and gained extensive international experience. The particle physicist has conducted research at such institutions as the Massachusetts Institute of Technology (MIT) in Boston, the University of British Columbia in Vancouver and the University of Washington in Seattle.